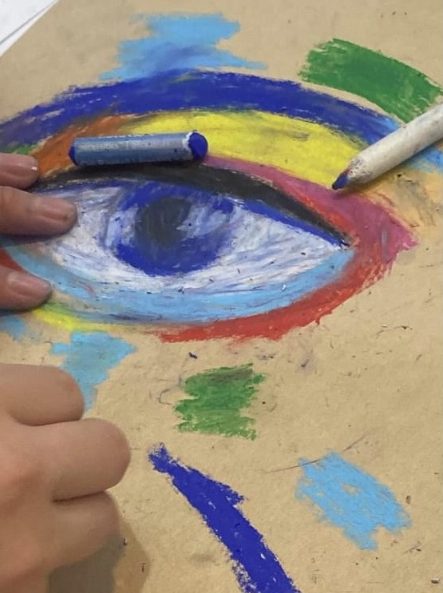 NEW – Wickford Location!
We are opening a second location in Wickford, at 4 Brown Street, North Kingstown, RI.
Summer Classes for all ages will start the week of June 26th.
The studio offers both group and private art classes, drop-in art workshops, and an Art Gallery.
You can now view these classes here!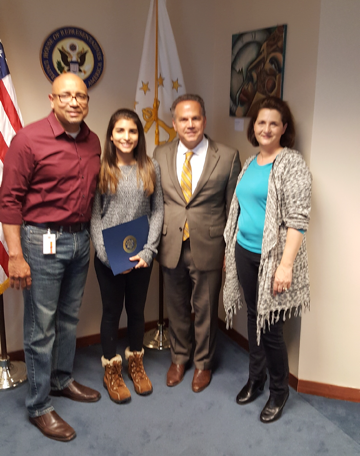 CONGRATULATIONS
to Lili for placing first in the 2017 Congressman Cecilline Art competition! Lili will be traveling to Washington DC with her family for a special ceremony , where her art piece will be displayed for a year. "Stuck in Time", by Lili, has now won two statewide competitions!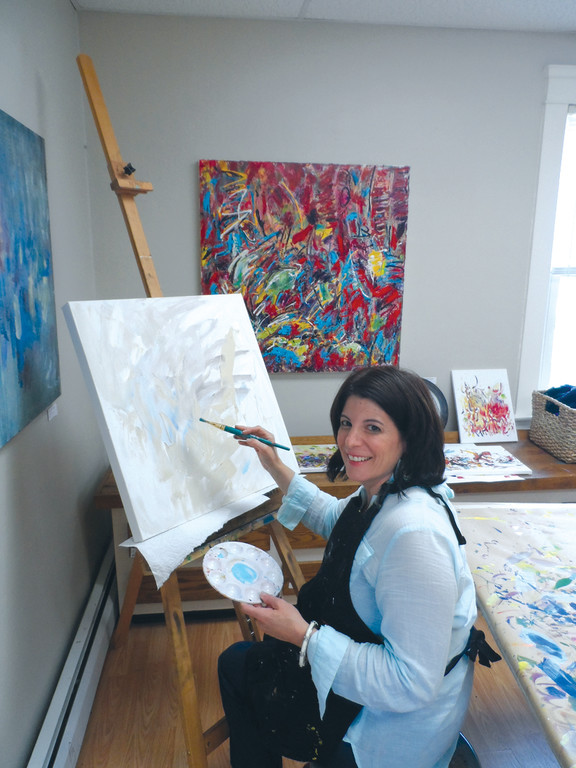 Herald photo by Jessica Selby
Cranston native pursues passion, teaches others at Blue Door Art Studio
Jessica Selby
Nestled amongst fast food restaurants, doctor's offices and hair salons, Cranston has its own professional art studio.
The Blue Door, which is privately owned and operated by Cranston native Claudia Venditto, is located on Cranston Street and is easily observed by the bright blue door that stands at the front of the building.
She opened the studio three years ago and has instructed countless aspiring artists of all ages, male and female, during that time. Venditto, who has a master of arts degree in teaching from the Rhode Island School of Design, does much of the teaching at the studio. She regularly offers classes, workshops and camps for children as young as preschool age, as well as for adults and seniors. Creating works of art, she said, has no age limit.
Venditto said that she draws a large population of students from the local area, but has had some venture to her studio for lessons from as far as North Kingstown, Smithfield, North Providence and East Providence. She said she even once had a student who traveled from Newport to receive instruction from her.
Venditto has been working as a professional artist for close to 20 years. During the day, she works as an art teacher at Cranston High School West, but in the evenings and on weekends, she spends much of her time at The Blue Door.
Venditto just unveiled her summer schedule for the studio, which includes a summer camp program, drop-in classes, workshops and several four-week programs that begin in early July.
Venditto recently hosted a solo exhibit at the studio as well. The show, which was held on June 22, was a display of the many pieces that Venditto has completed over the last few years. She said she included both abstract works of art and representational pieces in the show. The visitors, she said, showed interest in both styles.
"I had about 40 pieces on display at the show," she said. "And I was pleasantly surprised to see that people were drawn to both styles."
Venditto said that she has been told by her critics that she is "very versatile" in her ability to do all styles of art, and because of this she feels privileged to display all of her works.
"I enjoy doing both styles, but this style [abstract] comes more naturally to me," she said. "I enjoy the freedom in the brush strokes when doing [abstract], whereas in a representational piece there has to be much more fine tuning.
"I also like that abstract art allows that viewer to use their imagination to make their own interpretation, whereas a representational piece needs to be recognized for who it is in the painting," she added.
Both styles of Venditto's works are on display at the Blue Door studio. In the main entrance way there is a representational piece that depicts her two nephews, and another that displays her two daughters, Victoria and Grace. She also had several abstract pieces, some of which present bright, vibrant colors while others feature more delicate, pastel-type tones.
All of the works of art are still available for purchase, and space is still available in all of the summer session courses offered at The Blue Door. Anyone interested in learning more about the local studio should visit www.bluedoorartstudio.com or call 383-5050.