Blue Door Art Studio
WELCOME TO BLUE DOOR STUDIO
Register for our Spring Session II Today!
New!!!! CERAMIC lessons included in each 8 week session!
Spring Session 2 will be at our new location in Smithfield RI-

115 Pleasant View Ave
Spring Session II starts the week of May 1 and runs through to the week of June 24th. Our sessions are 8 weeks long and we pro- rate for students joining us later in a session.
401-383-5050
It is with great excitement that we are announcing an upcoming studio move to 115 Pleasant View Ave., Smithfield, RI (Smithfield Plaza)! This location is conveniently located 2 minutes from Apple Valley Shopping Center. We will be opening our new location in May, at the start of our Spring Session 2. The new studio offers us more space and more opportunities to further develop our art programs for all ages!
Blue Door Studio has been offering art classes to students of all ages for the past 10 years.
Claudia Venditto (RISD MAT 1995) studio owner and director also has 20 yrs+ teaching experience in the Cranston Public School System.
At Blue Door Studio we offer a sequential based art program for students of all levels (ages two to adult). We teach life long art skills that our students develop from the moment they walk through our Blue Door! Our learning environment is positive, enjoyable and educational. We excel at progressing our students' development as artists. We feel it is important to teach technique and art vocabulary to strengthen their skills as confident artists!
~Blue Door

Gift Certificates are Available!

Contact Us~
~Our Summer Schedule is now Available!~
Learn about our High Quality Art Camps and Classes for ages PreK-K and ages 7-12 and ages Teen and up!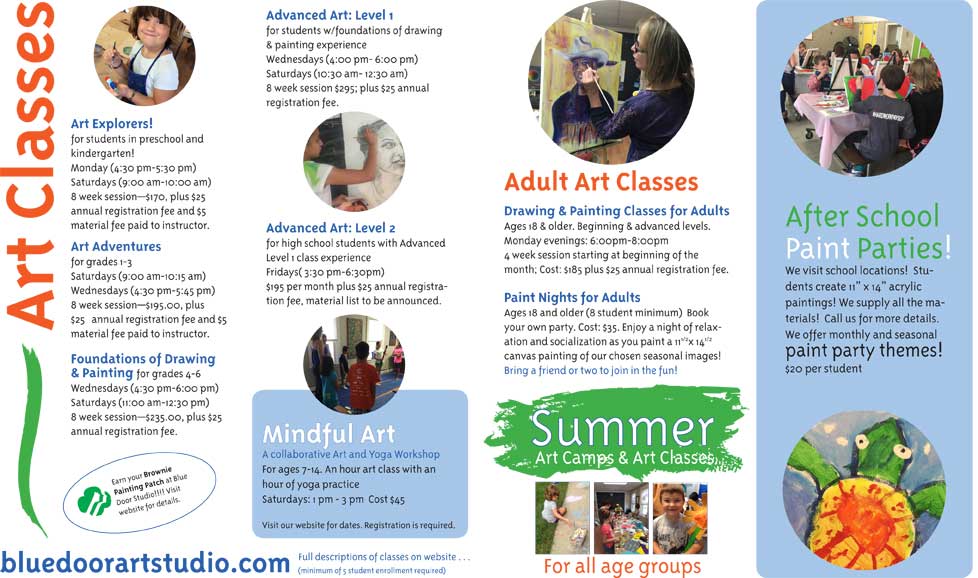 Look At What Our Students Accomplished!
Scholastic Art Awards – Statewide Competition 2017
Congratulations to all of our students that had pieces submitted to Scholastic Art and Writing Awards statewide competition this year. The students were honored and recognized for their achievements at Rhode Island College with an award ceremony and art opening/ exhibit of their work at the college's gallery!
_________________________________________________________________________
"My son had a wonderful time at Blue Door Art Studios. Thank you Miss. Claudia. We will definitely be back and spread the word about your studio"

–Elizabeth D.
"My girlfriends and I enjoyed the Art and Dine SO much! Would definitely do it again! All of our paintings came out so differently ! The instructor was very helpful…especially because I can barely draw a stick figure! LOL" –Gina M.
"The atmosphere at Blue Door Studio is very inviting. Claudia does a great job teaching students of all ages! Both me and my daughter enjoy our classes."–Dawn F.
"My daughter has not stopped talking about her class tonight : )" –Lauren G.