Classes
For all levels of experience

Art Explorers
Classes for children of all ages

Summer Art Camps in Cranston RI
Summer Camps for all levels of experience.

Private Art Instruction
For all levels of experience

Art Exhibits
Check events for upcoming art exhibits

Blue Door Art Studio
WELCOME TO THE BLUE DOOR STUDIO
Register Today for Fall Session II Classes!
Fall Session II begins on Nov 1st and ends Dec. 20th!

NEW!
Winter Fest Paint Night
at Thirsty Beaver in Cranston 
Dec. 9th 7pm-9pm
$35.00 per person 
Paint with us and enjoy grilled pizza appetizer!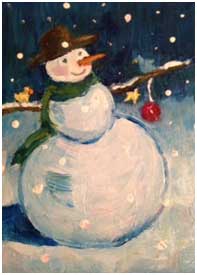 Reserve your spot using paypal at
www. bluedoorartstudio.com
or call 383-5050
                 Registration Process:
Option 1: Click on the "Make a Payment" tab along the left to pay via PayPal to reserve your spot.

In the "Description" section in PayPal please type:

December Paint Night
Your name
Phone number
Email

Option 2: Mail a payment to 1672 Cranston St, Cranston, RI 02920
Option 3: Call (401) 383-5050 and make a payment over the phone.
CANDY HOUSE WORKSHOP:  

FOR AGES 5-15!  
SAT. NOVEMBER 29TH, 1-3PM, $30 REGISTRATION IS REQUIRED
Plan a PAINT Benefit today!
A PAINT BENEFIT is a fun way for schools and businesses to raise money!!!! 
* Plan one today for your worthy cause!
*Paint Benefits are two hours long!
*Pick your time of day or evening!
*We will host PAINT Benefits at various locations: schools, dance studios, gyms, restaurants, coffee locations, marketplaces OR you can visit us at the studio! (20 student maximum at studio)
*Depending on numbers of registrations, group may need to be divided into more than one session.
*We supply the painting theme, all art materials (canvases, brushes and paint) and art instructors!
*You provide assistance with registration forms and fee collections
Please contact us for our rates and more details!
***OUR FALL THEME for PAINT Benefits : Vincent Van Gogh's Sunflowers!  You can also a specify your own theme choice!  We honor most requests!
"My son had a wonderful time at Blue Door Art Studios. Thank you Miss. Claudia. We will definitely be back and spread the word about "Fun Fridays"–Elizabeth D.
   "My girlfriends and I enjoyed the Art and Dine SO much! Would definitely do it again! All of our paintings came out so differently ! The instructor was very helpful…especially because I can barely draw a stick figure! LOL" –Gina M.
"The atmosphere at Blue Door Studio is very inviting. Claudia does a great job teaching students of all ages! Both me and  my daughter enjoy our classes."–Dawn F.
"My daughter has not stopped talking about her class tonight : )" –Lauren G.

  Scholastics Art And Writing
Statewide Competition 2014
Congratulations to all of our students that had pieces submitted to Scholastic Art and Writing Awards statewide competition this year. Students from Blue Door Studio receiving individual keys for their pieces: Alexa G. – Grade 7-one gold key – Charcoal self Portrait and one silver key- Butterflies, Laura W. – Grade 9- one gold key for her "Slice of Color Still Life Drawing" and Erin T. – Grade 8-one gold key-Charcoal Figure Drawing and one silver key-"Women in Fashion" . The students were honored and recognized for their achievements at Salve Regina University with an award ceremony and art opening/ exhibit of their work at the college's gallery!