WELCOME TO BLUE DOOR STUDIO!
Smithfield Location
401-349-2812
115 Pleasant View Ave, Smithfield, RI 02917

Wickford Location
401-667-2890
4 Brown Street, North Kingstown, RI 02852
Blue Door Studio has been offering art classes to students of all ages for the past 10 years. Claudia Venditto (RISD MAT 1995) studio owner and director also has 25+ years teaching experience in the Cranston Public School System. At Blue Door Studio we offer a sequential based art program for students of all levels (ages 4 to adult). We teach life long art skills that our students develop from the moment they walk through our Blue Door! Our learning environment is positive, enjoyable and educational. We excel at progressing our students' development as artists. We feel it is important to teach technique and art vocabulary to strengthen our students' skills as confident artists! Follow Blue Door Studio on Facebook and Instagram, and CCV Art by Claudia Crudele Venditto on Instagram at CCV_ART12. Art pieces are available for purchase and for rental to stage designers.

We proudly serve students from Rhode Island, Massachusetts and Connecticut.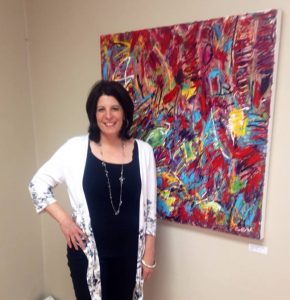 Claudia Venditto is the founder and owner of the Blue Door Studio. She received her Masters in Arts of Teaching in 1995 from Rhode Island School of Design. She is a certified Visual Arts Educator for the city of Cranston and has enjoyed teaching there for 25+ years. She has 14 years of experience working with elementary school students and over 14 years of experience working with high school students. She has also volunteered her teaching services as a cooperating teacher for the Rhode Island School of Design and Rhode Island College teaching programs.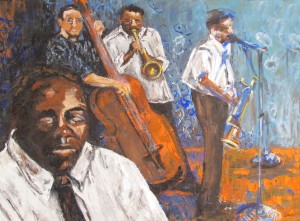 Jazz musicians, Acrylics, 36in x 48in
For Sale
Claudia enjoys being a mother to her two beautiful daughters. She also enjoys painting with acrylics and making collages and mixed media pieces in her free time. She won first place, for her Jazz Musicians painting at the juried Wickford Art Association opening, The Blues, in June 2013 and second place for her Sea Beneath mixed media piece at the juried Wickford Art Association opening , Art of the Ocean State, in July 2013. Her piece, Amazing Grace also received first place in the juried Wickford Art Association opening called The Blues 2016. Claudia participates in the South County Art Association juried art exhibits often as well. "I strongly feel that the purest form of art comes from the inner being of the individual. The purest form is the most powerful, for the artist and the viewer."- Claudia Venditto
Claudia Venditto also markets her CCV art pieces , like Waterfall seen below, to local home stagers and interior designers for purchase and rentals in their designs. Her pieces can be found for sale and rentals on her Instagram account.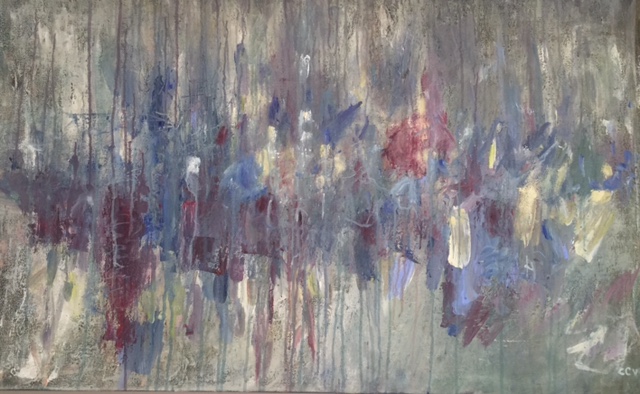 Waterfall, Acrylics, 36in x 48in
Sold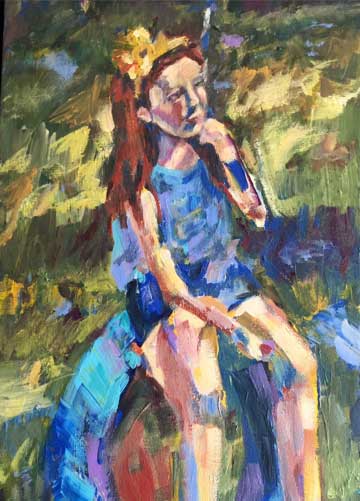 Amazing Grace, Acrylics, 18in x 36in
NFS
"Absolutely love this studio! Not only is Claudia an extremely talented artist but she also has the gift of bringing the art out in others! We also love walking in each week to a big smile! She definitely adds to the family type feel at Blue Door!" – Danielle