Classes for Adults
Daytime and Evening Drawing and Painting Classes :
For Adults ages 18 and older
Mondays: 6;00 pm – 8:00 pm
New 4 week sessions start on the first Monday of each month!
Art Instructor: Claudia Venditto
ALL LEVELS ARE WELCOME!
4 week session, Cost: $185 plus $25 registration annual fee (Blue Door Studio t-shirt included)
Bring spiral bound 9″x 12″ spiral bound sketchbook and new students bring a set of 8-12 artist drawing pencils (found at Michaels', Dick Blick / Utrecht in Providence)
FOR THE BEGINNER:This class is designed with the beginner adult in mind! We will introduce our beginner students to the basics of drawing with observational drawing lessons as well as shading lessons. We will also introduce our students to the use of graphite and charcoal media before they learn about color theory painting! Students are guided through the fundamentals of drawing to help them build their confidence in their art making skills and to make them better prepared for their painting lessons! Students' first 4 week session usually includes more drawing lessons than the painting lessons! We believe drawing is the foundation to all art forms!
FOR THE ADVANCED: This class offers continuous learning opportunities to our students as the students advance their skills from session to session! Drawing and painting lessons are included throughout these sessions.
Mindful Art for Adults
for ages 18 and Over!
Wednesdays, 10am -12pm : May 10th,May 17th,24th and 31st
4 Week session
Cost: $195
Mindful art is intended to encourage mental acquity amongst our adult community ! Students will enjoy an hour long art lesson that is based on the concept of one's self awareness and an hour of yoga class that makes connections to the students' art project of the month.
Open Studio Hours for Adults
for ages 18 and Over!
Thursdays, 11am -2pm : May 10th,May 17th,24th and 31st
4 Week session
Cost: $120 for Adult student Class Members and $150 for Non-Adult Class Members
Enjoy studio time with other adult artists working on their own individual paintings! This is a self directed studio offering Please inform us of the art materials you plan on using ahead of time.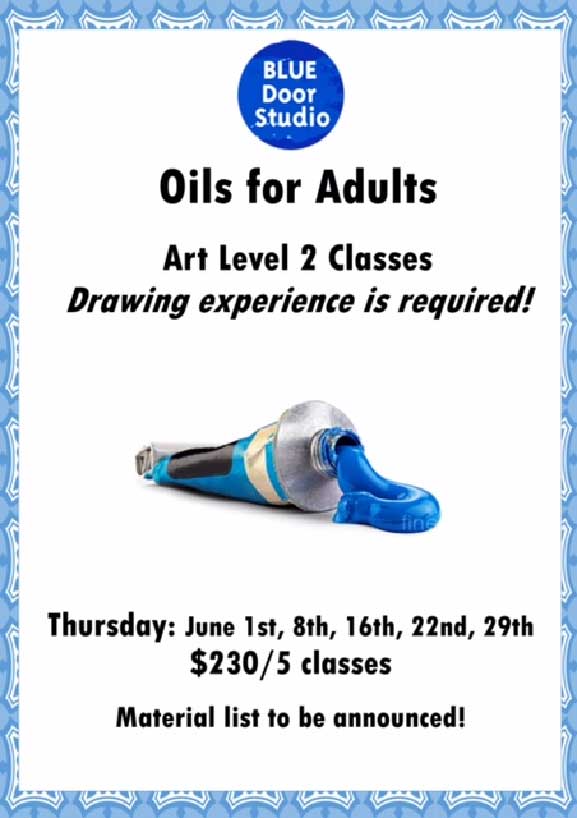 Click on Images to View and Scroll Through