Birthday Art Parties
Celebrate at Blue Door Studio!
Why choose us to celebrate with?
Claudia Venditto, studio owner and instructor, has 20 years+ of teaching experience in both the public school system and private sector.
Our paint parties are instructed by professional adult art educators / artists .
We offer a comfortable studio environment and have experience teaching art classes to students of all ages and levels.
We receive RAVE reviews about the way we organize and entertain at our paint parties! Inquire today! (401-349-2812)
Your child will be the guest of honor! Who is their favorite artist? What is their favorite art style?
Choose a painting image for your party from the following age group categories: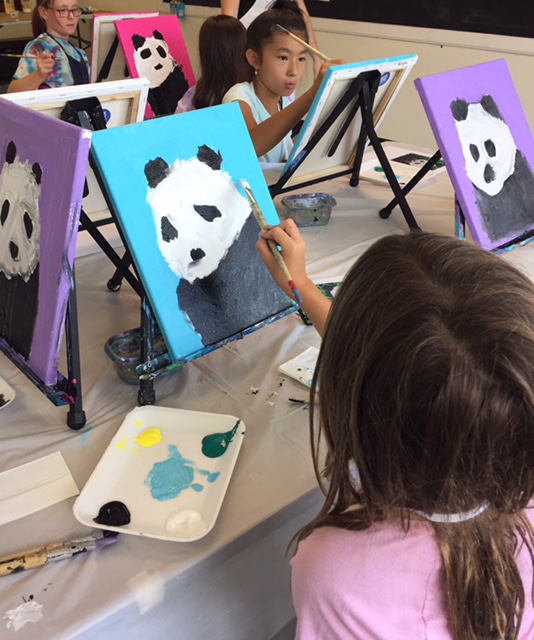 AGES 5-7:
Victorian Tea Sets

Dazzling Dinosaurs

Superhero

Eric Carle Butterflies

Eric Carle – Moonscapes

Rainbow Fish
Ninja Turtle
Minion
Olaf
Ages 8-9:
Rain Forest Toucan

Van Gogh Starry Nights

Van Gogh Sunflowers

Matisse Still Life

Figures in Action
Mermaids
Pandas!
Olaf
Minion
Ages: 10-13
Georgia O'Keefe Flowers

Hellen Galler (artist reference) Cat

Pop Art Cupcake

Pandas!
Tropical Island
Swimming Turtle
Olaf
Peacock Feather
Eiffel Tower
Ages: 14 – 17
Tropical Island
Helen Galler Dog
Frida Karhlo Face
Koi Fish
Peacock
Peacock Feather
O'Keeffe Flower
Party Details
Our party package includes:
"Paint a Canvas" Lesson
Blue Door Studio t-shirt for the birthday boy/girl, printable party invitations and goody bags filled with candy treats and a $10 gift certificate to BDS
**Paper goods, food (please do not bring ice cream cakes), and drinks must be supplied by parent /guardian.

Cost : $325 for 10 guests, $10 per additional guest,
Party Rates and Policies:
Parties are two hours long for groups of 10 guests or less.
Custom designed themes are $20.00 extra
Each additional guest costs $10.00
Extra time following the allotted time of the party is $50 per each additional half hour
A $50 non-refundable deposit is required to guarantee your party date.
A contract must be completed by the parent/guardian and delivered to the studio, via email or postal service, 1 week prior to the party. Painting theme of party must be decided at this time.

Parents of the party guests attending the party are expected to wait in the designated waiting areas and will not be permitted to enter the studio when the party guests are being presented their painting lesson and while the party guests are painting.

**All payments are due at the close of the birthday party.
Party Schedule:
Guests will arrive, receive an apron, and begin free drawing at their seats.
Painting Lesson
Group photo opportunity ,with guests wearing silly,wacky props ,will be organized with the students "Art Gallery" wall displayed as the back drop.
Food, sing Happy Birthday, cake, dismissal.
Food deliveries should arrive approx. an hour and 15 minutes after the start of your party. We strongly recommend pizza,chips,beverages and cake only! There is limited time and additional foods may lead to an extra time charge,
We recommend if parents/guardians wish to remain at the studio during the party, that only 1 parent/guardian stays per child due to limited space. There is a front room, smaller studio space, and outdoor seating available for adults.
Please let us know if you require a folding table to set up food for the adults in the waiting area. Children will be requested to eat only after their paint projects are completed.
Thank you and feel free to contact us with additional questions!
Click on Images to View and Scroll Through